Walk-In Food Bank
University District Food Bank operates a walk-in food bank four-days a week to individuals and families from across Northeast Seattle. We offer food and toiletries, baby formula and diapers, pet food, and connections to important community resources to residents of zip codes 98102, 98103, 98105, 98112, 98115, and 98125. Customers may visit once per week during any of our open hours. Additional food support when the food bank is closed or for persons from outside of our service area can be found through the Community Information Line (just dial 2-1-1) and the Crisis Clinic website.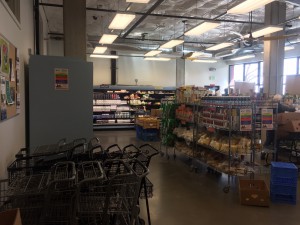 We serve residents of zip codes 98102, 98103, 98105, 98112, 98115, or 98125.
When visiting, please bring a photo I.D. and current proof of address (mail received at the address within the past 30 days, rent receipt, utility bill, cable bill, etc). Proof of address requirement waived for homeless persons.
Come to the food bank when it is convenient for you. We don't run out of food during the week, so it isn't necessary to arrive before we open for the day or earlier in the week.
Monday

Tuesday
Wednesday
Thursday
Friday
9 am – 3 pm

2 pm – 8 pm
Closed
2 pm – 8 pm
11 am – 4 pm
Please Observe These Guidelines
You may receive groceries only once per week.
Please leave all unwanted food items in the food bank. Others will use what you don't want.
Please respect our neighbors. Don't litter. Don't park in their parking spaces. Don't loiter on their property.
Thank you.