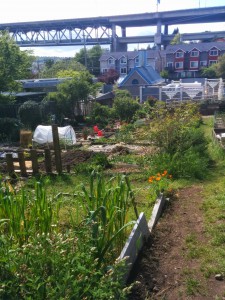 Nestled between apartment complexes and a pumping station by the University of Washington campus are 500 square feet of garden space that make up the UW P-Patch. Kathy Krogslund has served as coordinator of the P-Patch for over 30 years. It contains more than 60 plots with around 80 gardeners, at least ⅓ of which have been working their plots for five or more years. Because of its affiliation with the University, the P-Patch is a fluid system with students graduating and new students coming in frequently. Kathy sees this as an advantage and enjoys the new enthusiasm this brings to the gardens each year.
She works primarily with a team of four to five interns each year from the UW College of the Environment who receive class-credit for working in the P-Patch.  For Kathy, this offers a great opportunity to "foster that giving back to the community makes you feel good." Her interns are also encouraged to visit our Food Bank to learn how we operate and see how the vegetables they've grown are received by customers.
The P-Patch grows crops like sweet salad greens, beets, green beans, tomatoes, cucumbers, and summer squash. They harvest on Tuesday evenings and volunteer drivers deliver produce to the Food Bank on Wednesday mornings. Her goal for this season (June – October) is to increase produce donations to 500 lbs. Most years average between 300 and 500 lbs.
Kathy recalled a story from a few years back when a new gardener at the patch approached her to thank her for her work at the P-Patch. After losing her job during the economic recession, she turned to the Food Bank for the first time and remembered how excited she was the day fresh tomatoes came in and how good they tasted. It's stories like these that remind Kathy how important the garden is for our community.
When asked how the P-Patch has changed over time, she responded, "People recognize the importance of the P-Patch now more than ever." She attributes this to the evolution of farmers markets, the local food movement, and a push for low-income and refugee families in Seattle to have access to fresh produce. Kathy believes this gives the P-Patch political clout and ultimately gives value to the city. "We've all marched together on this," she says.
If you have spare gardening supplies, the P-Patch can always use hand tools for weeding such as trowels, buckets, plastic berry containers, paper bags with handles, and ziplock bags for packaging produce. All donations can be brought to the P-Patch shed, located at 4009 8th Ave NE. For more information on work parties or donations, send Kathy an email at kkrog@u.washington.edu.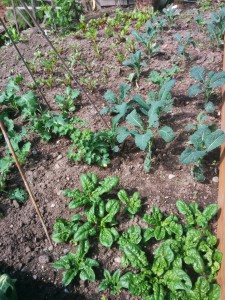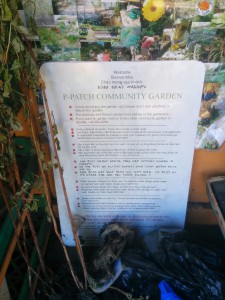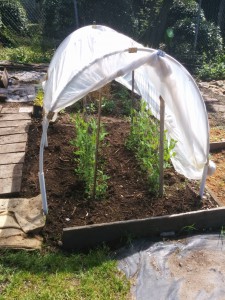 /wp-content/uploads/layout-logo.png
0
0
University District Food Bank Administrator
/wp-content/uploads/layout-logo.png
University District Food Bank Administrator
2015-07-10 13:40:13
2019-01-07 23:30:18
University of Washington P-Patch