Packs For Kids started in 2011 when staff and parent volunteers at Eckstein Middle School noticed that some students were too hungry to focus on their studies, and worked with UDFB to establish the program. Since then, we've expanded to 10 other Seattle K-12 schools, serving nearly 500 students on free-and-reduced lunch.
Because each of our partner schools uses PFK a bit differently, I spoke with staff and volunteers from a few schools (Eckstein Middle School, Hazel Wolf K-8, Jane Addams Middle School, and Sand Point Elementary), to hear their take on the program.
Q: How did you first get involved in PFK? What was the need like at your school?
A: Dolly Smith, parent volunteer at Eckstein Middle School
I first got involved with Packs For Kids three years ago when my daughter was in sixth grade.  I recruit and coordinate volunteers at the beginning of the school year, distribute flyers, and offer info about signing up when parents come to the school for first day orientation. There's a broad awareness of the program across the school, as staff and counselors refer students in need of food assistance.
A. Kris Van Houten, Volunteer Coordinator at PTA for Sand Point Elementary
Sand Point distributes 65-70 packs a week. We send flyers home for parents to sign up, as well as advertising in the school's e-newsletter. Family support workers are in contact with families needing assistance, so they are often the ones connecting them to the program.
A. Megan Riber, Assistant Secretary at Jane Addams Middle School
When JAMS opened as a new middle school last year, we had a great group of parent volunteers who worked with our principal to get PFK started. We had students coming from other schools in the area that had used PFK or similar programs and we wanted to continue to have that support in place for the students.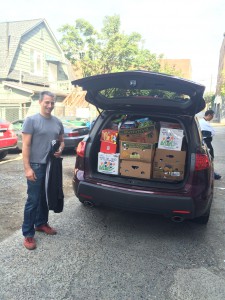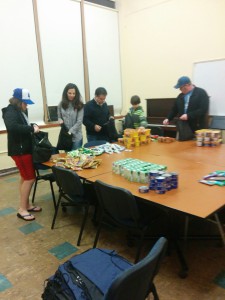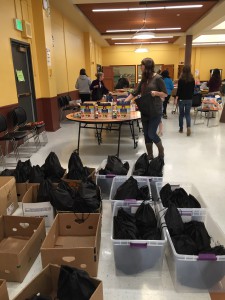 Q: How has the program changed over time?
A. LauraLeigh Young, Volunteer Coordinator at Eckstein
As free-and-reduced school lunch information is confidential, it was initially a challenge to identify students who needed the packs. But now that the program is well-established, students generally approach staff to sign up. There's a strong volunteer base and word-of-mouth among students.
A. Kara Dowidar, PTSA board member at Hazel Wolf
The school has explored additional ways to offer food to students at school.  We also hope to offer extra packs available for staff to distribute as needed when a situation arises, such as students becoming newly homeless, or a parent losing a job.
A. Megan Riber, Assistant Secretary at Jane Addams
Since we started the program new when we opened our school last year, it took a while to get the word out to students and their families. Now in our second year, we've worked through some of the issues and have a pretty established routine that the students know. We've also been lucky to have an awesome group of volunteers who are flexible and willing to make sure the program is working well for our school. One of our counselors told me about a mother who has 6 kids and asked for any help with food that we could give. For families like this, packs for the weekend and over breaks are a big help.
Q: What are any barriers to students or their families accessing PFK?
A. Kara Dowidar, PTSA board member at Hazel Wolf
Language is a barrier. We've enlisted the support of ELL teachers to help with translating materials and signing up students as needed. We try to be as flexible as we can. This also applies when students are uncomfortable receiving the packs in their classroom, they can pick them up in the office.
A. Megan Riber, Assistant Secretary at Jane Addams
One of the challenges we've had is getting the information about PFK out in all the different languages spoken by the families in our school. I've worked with our bilingual IAs to get the information translated into a few of the languages that are most common, and sent these materials home.
Another challenge is that with each new school year, we get a whole new class of students to get to know, so it takes time to get them plugged in with the program. To help with this, I have reached out to our feeder elementary schools with some success, although they don't all have similar programs in place. We also make sure to get flyers for our program out to all families in our first day packets along with informing all of our students that the packs are available in their Advisory classes.
Q: Other comments?
A. Kara Dowidar, PTSA board member at Hazel Wolf
This program is so simple to get started and maintain and the Food Bank does so much by providing food. The rest of the work is just once or twice a month, but once it gets flowing it almost runs itself. One thankful happy smiling kid says it all.
__
Thank you to all of the teachers, staff, parents, and students who help facilitate Packs at their schools, and ensure their students have nutritious food on the weekends. Special shout out to our PFK and Home Delivery Coordinator, Julia Fulk. This work wouldn't be possible without you!
/wp-content/uploads/layout-logo.png
0
0
University District Food Bank Administrator
/wp-content/uploads/layout-logo.png
University District Food Bank Administrator
2016-02-10 15:12:41
2019-01-07 23:30:17
Packs For Kids Q&A!