Fall is upon us, and for me, there is no better time to cook seasonally and resourcefully. As we begin receiving large quantities of fresh vegetables through our purchasing contract with a local farm (see previous blog post), we've distributed a couple new recipe cards both in the food bank and in our Home Delivery boxes to give folks some inspiration about using these veggies in simple, versatile ways.
1. Buttercup Squash Soup
This soup is full of sweet, hearty winter squash and veggies that are staples in the food bank like potatoes, carrots, and onions. Buttercup squash is also delicious cut in half, filled with diced apples and cinnamon, and roasted.
Ingredients:
3 tbsps. butter
3/4 cup chopped onion
2 carrots, peeled and chopped
1 potato, peeled and chopped
1 jalapeno, seeded and chopped
1 buttercup squash, peeled, seeded, and chopped
4 cups chicken stock or water
1/2 cup cream or milk 
Instructions:
In a large pot, melt butter and cook onions until tender.
Stir in carrots and jalapeno, toss to coat. Stir in chopped squash.
Pour in chicken stock and bring to a summer. Simmer for 30 minutes until vegetables are tender.
Puree soup in blender in batches.
Return to pot and stir in cream. Season to taste. 
2. Raw Beet & Broccoli Slaw
This slaw uses broccoli stalks instead of florets for extra crunch. The recipe is very flexible and can be made with any of your favorite crunchy vegetable such as carrots, cabbage, kohlrabi, or jicama. For those wary of raw beets, you can roast them in advance before grating!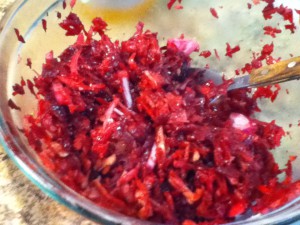 Ingredients:
2 beets
2 broccoli stems
1/2 cup red onion
1/4 cup oil
3 tbsps. apple cider vinegar, or lemon juice
1 tsp. sugar
Salt & Pepper
Optional additions: Cooked chickpeas, raisins, toasted nuts
Instructions:
1. Grate or slice all veggies thinly
2. Combine all ingredients in bowl and season to taste
3. Chill in fridge at least 1 hour before serving. 
/wp-content/uploads/layout-logo.png
0
0
University District Food Bank Administrator
/wp-content/uploads/layout-logo.png
University District Food Bank Administrator
2015-10-06 10:18:13
2019-01-07 23:30:18
Flavors of Fall in the Food Bank