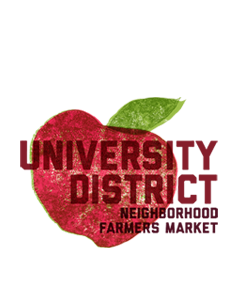 Did you know the food bank distributes $10,000 worth of Farmers Market vouchers to our customers each year? Through our partnership with the Seattle Neighborhood Farmers Market Alliance (NFMA), every food bank customer is eligible to receive monthly vouchers equivalent to $6 during the peak growing season, or late June through the end of November, when the maximum amount of produce is available. Vouchers improve access to fresh, local produce to those who need it most, as well as supporting small-scale farmers in our community.  This program also allows us an opportunity to give back to the Farmers Market and thank them for their abundant food donations throughout the year.
UDFB has a longstanding relationship with the NFMA and has been gleaning leftover produce from the U District Market every Saturday since the market's inception in 1993. This partnership is made strong by our amazing volunteers willing to help collect produce each weekend and our local farmers wanting to participate and give back. Each year, volunteers help us glean between 12-14,000 pounds of fresh vegetables from the market.
Farmers Market vouchers can be used at the U District, Capitol Hill Broadway, Columbia City, Lake City, Phinney, Magnolia, and West Seattle Farmers Markets. This offers flexibility to our customers by allowing them to shop at one of seven markets in the city which may be closer or more accessible to them than the food bank. Vouchers also offer a discreet and culturally appropriate way for our customers to make their own choices about food rather than being dependent on what the food bank has available on a given day. And their vouchers can be combined with food stamps and the bonus fresh bucks program to increase their buying power.
Anna Sparks, Outreach and Development Coordinator at NFMA, sees these vouchers as an important incentive to get people to come out to the market, and a way to support local food and farmers while expanding access to healthy food. We are so grateful for this important partnership with the Farmers Markets and look forward to future collaborations!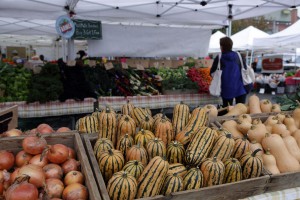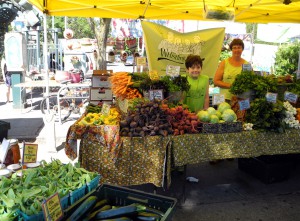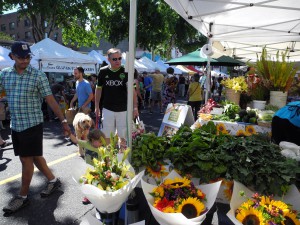 /wp-content/uploads/layout-logo.png
0
0
University District Food Bank Administrator
/wp-content/uploads/layout-logo.png
University District Food Bank Administrator
2015-11-09 11:28:26
2019-01-07 23:30:18
Farmers Market Vouchers