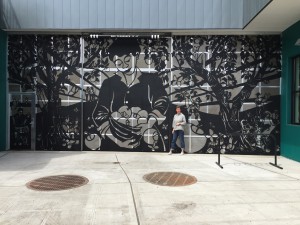 If you've stopped by the new food bank at 5017 Roosevelt Way NE, you've probably noticed the beautiful new piece of community art on our gate.
Our Director, Joe, approached artist Nikki McClure last year to commission a piece of art for the new food bank entrance. After Nikki sketched the piece in her traditional papercut style, we partnered with 2K Metal Works to have the design cut in to metal panels.
The Process
Keith Leggett of 2K Metal Works describes his process: "The first part is to take a vision and create from that vision a specific type of computer file which can then be converted into "machine code" which controls the cutting machine during the cutting process." The specific file type is called a vector file. After sketching her design in a scale of 1'' to 1', Nikki cut her drawing from black paper. The cutouts were scanned and then converted into a vector file.
Q: What was your inspiration for this piece?
A: I thought about what a food bank does for the community. I have an apple tree outside my studio at home. I thought about how an apple tree ages and is taken care of by many people over a long period of time. It represents care, habitat, and support.
Since we can't plant real apple trees in front of the building, I like the idea of making more trees in an urban environment. When people look at the gate, it should feel like gathering under a tree. From the street, the piece feels like a cave, a sheltered place. And the trees look like they are supporting the building.
Q: How was this project different from your other work?
A: I've done a couple small metal pieces, but nothing on this scale. I'm excited about this – it makes me want to do more public art. Joe offered me lots of freedom and trust, which I really appreciate. I'm so thankful to have had the opportunity to make this piece. It's an honor.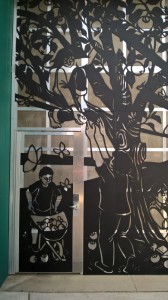 —
Nikki McClure is a papercut artist, author, and illustrator, based in Olympia. From her website: "I cut my images from black paper with an X-Acto knife. Everything is connected. It is all one piece of paper, yet now it holds a story."
2K Metal Works consists of Keith Leggett and his nephew, Maxwell Leggett. He started the company in 2004 with his original partner, Kathryn Shiohira.
/wp-content/uploads/layout-logo.png
0
0
University District Food Bank Administrator
/wp-content/uploads/layout-logo.png
University District Food Bank Administrator
2016-07-28 13:17:48
2016-07-28 13:17:48
Gate Art: Q & A with Artist Nikki McClure