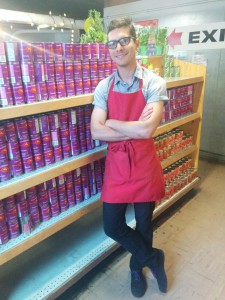 Dave manages our walk-in food bank three days a week. You're likely to find him sorting through boxes of rotten salad greens while welcoming a new group of volunteers, leading them in a banana freezing project, writing daily fresh sheets, or singing a Talking Heads song in the back room after hours. Through the chaos of long lines and volunteer misadventures, he's holding it all together with enthusiasm and compassion.
Q: What is your favorite part about your job?
A: The people! I love meeting people from all walks of life. In one day I can meet someone from Austria and someone who works as a paranormal investigator. I get to learn from their stories and get inspired.
It's cool to be part of the anti-hunger movement and work with a talented team of coworkers. I love talking about food banking with other people in the field; it's good for morale.
Q: What is the most challenging part about your job?
A: It's hard to run a grocery store with volunteer labor. Volunteers don't always show up and it's challenging to ensure the bare minimum of food safety and respect for our customers.
Q: How has working at the food bank affected your life?
A: Before I was a manager, I was a volunteer, and before that, I was a customer, so I've been interacting with the food bank for five years and working here for two. I did a lot of my growing up here, and I've come really far as a person and professionally.
I love that [this job] challenges me and I've learned to overcome various circumstances such as having to remove volunteers or customers from the space when needed. It's about meeting people where they're at and being the person who needs to do that all the time.
Q: What are your food bank hopes and dreams?
A: I'd like us to be a food bank that addresses the root causes of hunger. The U District as a neighborhood can feel really transient, so I'd like to us to reach out and build community for people struggling with food insecurity and food illiteracy.
I want to offer a space for community organizing to address problems in this neighborhood, such as the lack of public drinking fountains and bathrooms. In order for that to happen, we need to raise our voices to make life better for our community.
I'd love to offer a communal cooking space, canning classes to learn about fermentation, education space in our future rooftop garden, and transportation to farmland outside the city. We could connect people with means of production for growing their own food and become champions for public health.
Q: Can you share a memorable food bank story?
A: One of my best food bank memories was going to a friend's house who is also a food bank customer. We prepared dinner using ingredients from the food bank, and had a great meal and conversation. That experience really reminded me why the food bank is important.
Sometimes in the day-to-day grind, it's hard to see our real purpose. I wonder; Are we a disposal service for grocery stores? Are we a work program for folks to complete their community services hours, or a place for people to get free bread? Maybe we are all of those things but we are also a force that provides food and community for people who need it.
/wp-content/uploads/layout-logo.png
0
0
University District Food Bank Administrator
/wp-content/uploads/layout-logo.png
University District Food Bank Administrator
2016-05-12 11:39:48
2016-06-01 14:34:18
Staff Feature: Dave