By: Kailin Mooney 
"The fact that menstruation is a taboo topic to begin with, means that people who are able [to] help, often aren't even aware that such a vast need exists."
Robyn asked if I would consider guest blogging about a visionary benefit house party we both attended a few weeks back. This particular event was a first for UDFB – a volunteer coordinated drive for feminine hygiene and baby products that coincided with an open community repack party hosted by two of our community members.
Adela and Mern were disheartened after reading a recent article written by Eleanor Goldberg for the Huffington Post, which exposes the heartbreaking difficulties facing homeless women each month. In her article, Goldberg points out, "The fact that menstruation is a taboo topic to begin with, means that people who are able [to] help, often aren't even aware that such a vast need exists." In response, Marian and Adela reached out, inspiring over 30 people to donate and repack tampons, pads, menstrual cups, and larger sized diapers! They even had baby wipes to add to each package of diapers and unused make-up, tooth brushes and toothpaste to add to the feminine hygiene bundles.
At UDFB, feminine hygiene products are highly sought after and are a rare donation. Customers often quietly scan the shelves behind our check out stations for signs that we might have pads or tampons before quietly requesting them for themselves or family members. Relief is clear when we have items to provide. Thanks to Adela, Mern and all of the donors and volunteers who participated in their event, our shelves were stocked throughout the month of October, and we expect, will remain so well into November.
Our gratitude runs deep. People who see a need and take action keep our doors open, our shelves stocked, and our hearts full. Thank you Adela, Mern and our incredible community of supporters for all you do for UDFB each and every day. We couldn't do this work without you.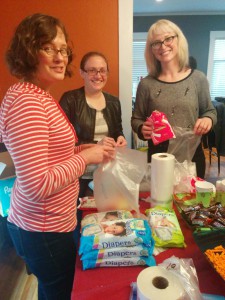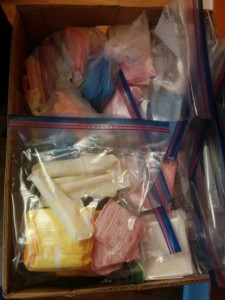 /wp-content/uploads/layout-logo.png
0
0
University District Food Bank Administrator
/wp-content/uploads/layout-logo.png
University District Food Bank Administrator
2015-10-30 10:24:46
2019-01-07 23:30:18
Our First Period Packing Party