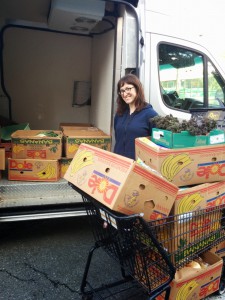 Kailin is our Operations Manager and is responsible for food recovery from our partner grocery stores. Wednesday is her busiest day for pick-ups, so I accompanied her on her route which includes U Village QFC, Wedgewood QFC, Wedgewood Safeway, Viewridge PCC, and the Roosevelt Trader Joes.
Kailin has established a good rapport with each store's employees and knows many of them by name. They recognize her immediately as we walk in, say hello, and direct us to different parts of the stock room and freezer where donations of meat, produce, bread, dairy, and nonperishable items have been set aside. "There's a whole cart full of strawberries for you in the back!" one produce employee excitedly reports.
Kailin has found that when employees are aware and understanding of our work at the Food Bank, they become more conscientious of setting aside donations for us and ensuring better quality control. I can barely keep up as she dashes around to each department, effortlessly lifting 50 pound boxes of produce into shopping carts. We also check the stores' donation bins which are emptied weekly and then load up our refrigerated van with all the donations and head back to the Food Bank.
The pickups are often unpredictable and she's never sure exactly how much will be available at each store. Her days are also full of surprises, like when a store's cooling system broke down and they called her to come pick up the entire contents of their coolers immediately. No matter the situation, Kailin takes everything in stride with a positive, enthusiastic attitude and expert van maneuvering skills. We are so thankful for Kailin and all of our partner grocery stores!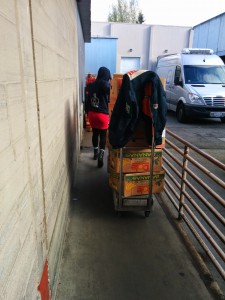 /wp-content/uploads/layout-logo.png
0
0
University District Food Bank Administrator
/wp-content/uploads/layout-logo.png
University District Food Bank Administrator
2015-05-22 09:55:50
2019-01-07 23:30:19
Day in the Life: Kailin