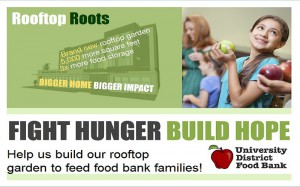 We're excited to ask our community to help catalyze Rooftop Roots – our new rooftop garden and community engagement work.
As part of our Fight Hunger Build Hope campaign for a new food bank building, we're opening a garden on the roof of the new food bank that will ultimately generate 10,000 pounds of produce every year for food bank families.
Here's what you need to know:
2,000 square feet of raised garden beds
apiary with three beehives to serve as pollinators and provide locally harvested honey for food bank customers
hands-on gardening and nutrition education with low-income students from our Packs For Kids partner schools
This garden is an investment in sustainability for the University District Food Bank, for our clients, and for our community. With your help, our new rooftop garden will be a new source of fresh produce for our food bank, and the foundation for new community partnerships in gardening education and outreach.
Help us reach our goal of $25K by donating to and sharing our Generosity campaign.